Language Arts has always been one of the most important aspects of the western education system. At New Horizons, we hope to create a total English language environment, in which students are able to improve their critical thinking, while at the same time learning to fully express themselves in the English language.
The reading portions of our courses are selected from outstanding award-winning novels and other excellent written resources. All ourtext books and practice materials are exclusive to New Horizons, having been written and developed by our talented team of course creators.
These study materials all conform to American Common Core Standards and the learning abilities of Chinese students at certain ages. This New Horizons material has won the appreciation of many of our parents and students.
In the spring of 2019 we will be offering a new Language Arts program for students in Grades 1-12. The themes for these courses are varied and thought provoking, with lots of great ideas and rich descriptions.
We hope by studying this literature, young students will be stimulated to learn more, and be set on a permanent path to high achievement. The following is a brief introduction to some of the topics of the spring book list.
Primary Year Foundations (G1-2)
In order to help younger students develop English reading habits and interests from a young age and help them experience a variety of learning styles, we would like to announce that our new "Primary Years Foundations" course, which will be open for the Spring 2019 for students in G1-2.
In this "Primary Years Foundations" course, our teachers will help younger students become immersed in an English environment and build a strong foundation for English grammar, vocabulary, and writing abilities. The program's focus will enable students to build confidence and fluency by utilizing a curriculum that goes from easier basic concepts to more difficult ideas by the end of the term.
Students will read famous and engaging stories that are simple for young learners, which will help them to learn how to write complete sentences and short answers to comprehension questions. By the end of this course students should be able to write short passages with confidence. Please click here to see more information→New Horizons Primary Year Foundations(G1-2)
James and The Giant Peach
Roald Dahl's novels are famous for being humorous, imaginative and full of excitement. He is universally regarded as a master of children's literature. Most of his works are unique, imaginative, and fun to read. From the very beginning, they can teach a lesson by crossing the bounds between reality and fantasy, while at the same time being funny, witty, or absurd.
Roald Dahl, the author, is a famous British children's literature writer. He wrote for decades, most of that time in an old shed behind his house. He wrote such famous stories as "Charlie and the Chocolate Factory", " The BFG", "The Witches", "The Fantastic Mr. Fox" "Matilda" to name only a few. Their magic transcends national boundaries, to be appreciated in every country. Every child who reads his books can't help but be fascinated by the magical world of his creation.
After finishing the first book, the Young Starters children are asked to write a creative essay with the theme"Imagine a boy named James has a very mean and wicked aunt. Describe what kind of grotesque image she will have in your story".
When the robot Roz crashes on an island, she is forced to fight for her survival. The only way Roz can survive is to learn about her new environment from the island's hostile "animal inhabitants". As Roz gradually integrates into this new environment, the island's small animals patiently teach and help Roz adapt to this new world and get used to the new life.
The debut of Peter Brown's work sparked some thought-provoking questions about how science and technology play a role in society, how humans affect the world around us, and what it actually means to be alive.
After finishing the first novel of this semester, children will be asked to use their own imagination combined with the lessons learned from the novel to create their own extraordinary story.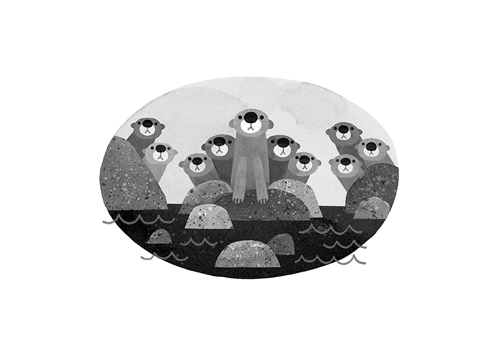 Growing up is always an daunting proposition. The process is sometimes very slow, like a creek leisurely flowing; sometimes it is sudden, like a rainstorm blowing into your face.
Over the course of two summers three children experience unexpected growth because of a court case in their town –there's pain and confusion, sadness and anger, but also warmth and touching friendship. This book is a classic narrative of growth and love.
The theme of this year's Middle Years grade is "Reading Between the Lines", and the first semester's novel focus on "social fairness and human compassion." Children need to create an analytical long paper after reading the classic American work "To Kill A Mockingbird".
The Great Gatsby is a 1925 novel written by American author F. Scott Fitzgerald that follows a cast of characters living in the fictional towns of West Egg and East Egg on prosperous Long Island in the summer of 1922.
The story primarily concerns the young and mysterious millionaire Gatsby and his quixotic passion and obsession with the beautiful former debutante Daisy Buchanan. Considered to be Fitzgerald's magnum opus, The Great Gatsby explores themes of decadence, idealism, resistance to change, social upheaval, and excess, creating a portrait of the Roaring Twenties that has been described as a cautionary tale of the American Dream.
In the first semester of the spring course, children will read "The Great Gatsby" and analyze the deep meaning of this great literary work. They will explore the social, political, and economic environment of this turbulent period of United States history, the time we know as the "Great Depression".
Through reading the book, discussing the true meaning of the American dream, and examining the lives of the "Haves" and "Have-nots", students will finish their course by writing an analytical paper.
The hero-narrator of THE CATCHER IN THE RYE is an ancient child of sixteen, a native New Yorker named Holden Caulfield. Through circumstances that tend to preclude adult, secondhand description, he leaves his prep school in Pennsylvania and goes underground in New York City for three days.
The boy himself is at once too simple and too complex for us to make any final comment about him or his story. Perhaps the safest thing we can say about Holden is that he was born in the world not just strongly attracted to beauty but, almost, hopelessly impaled on it.
There are many voices in this novel: children's voices, adult voices, underground voices--but Holden's voice is the most eloquent of all. Transcending his own vernacular, yet remaining marvelously faithful to it, he issues a perfectly articulated cry of mixed pain and pleasure. However, like most lovers and clowns and poets of the higher orders, he keeps most of the pain to, and for, himself. The pleasure he gives away, or sets aside, with all his heart. It is there for the reader who can handle it to keep.
In our spring class, the children in the upper grades will complete an analysis of the book's literary themes under the guidance of their teacher. They will extract important parts of the story, search for the new materials through research, summarize the texts, and complete their own research papers.
At the same time, the teacher will also supplement the material and advise students on their writing style. Through this process, upper grade children will better prepare themselves for the standardized test and for rigorous university life.